WindTre is one of Italy's leading mobile network operators, offering both traditional SIM cards and eSIM connectivity for tourists visiting the country. This comprehensive guide covers everything you need to know about using WindTre when traveling to Italy, including coverage, speed, SIM card options, eSIM availability, costs, and step-by-step activation instructions. Read on for all the details to get connected with WindTre in Italy.
Table of Contents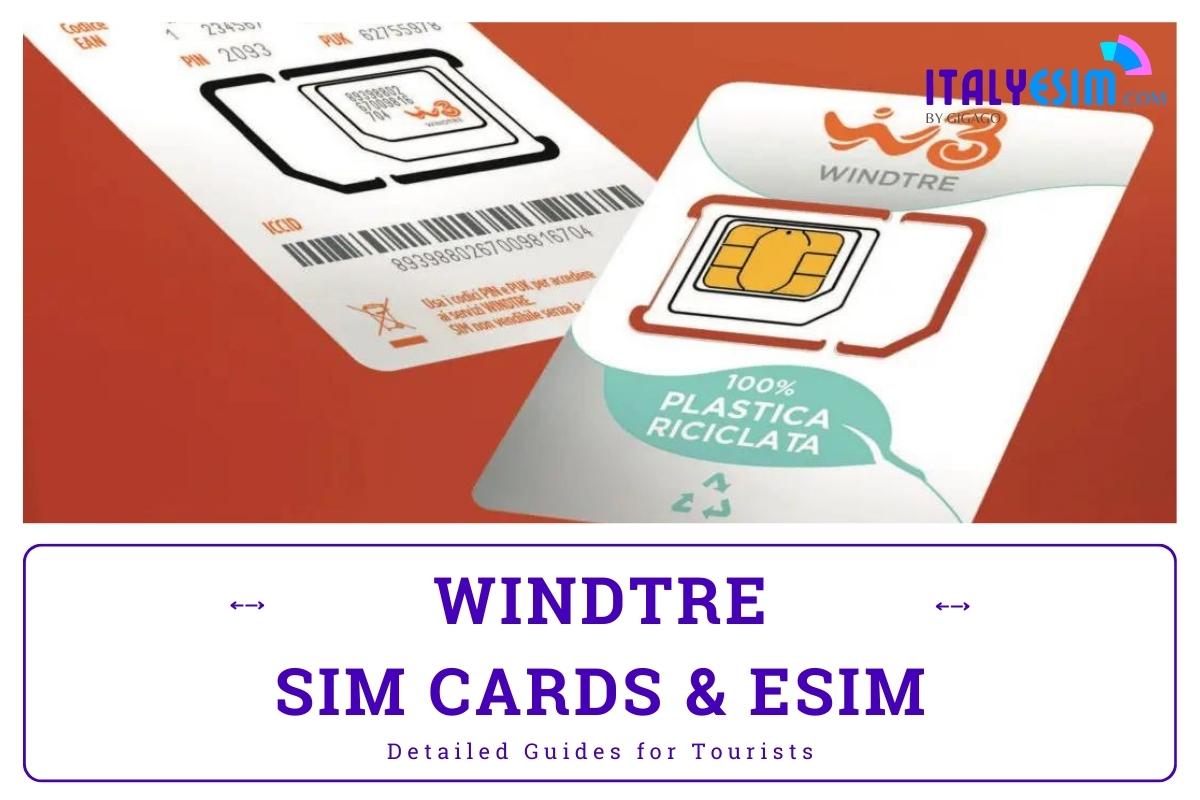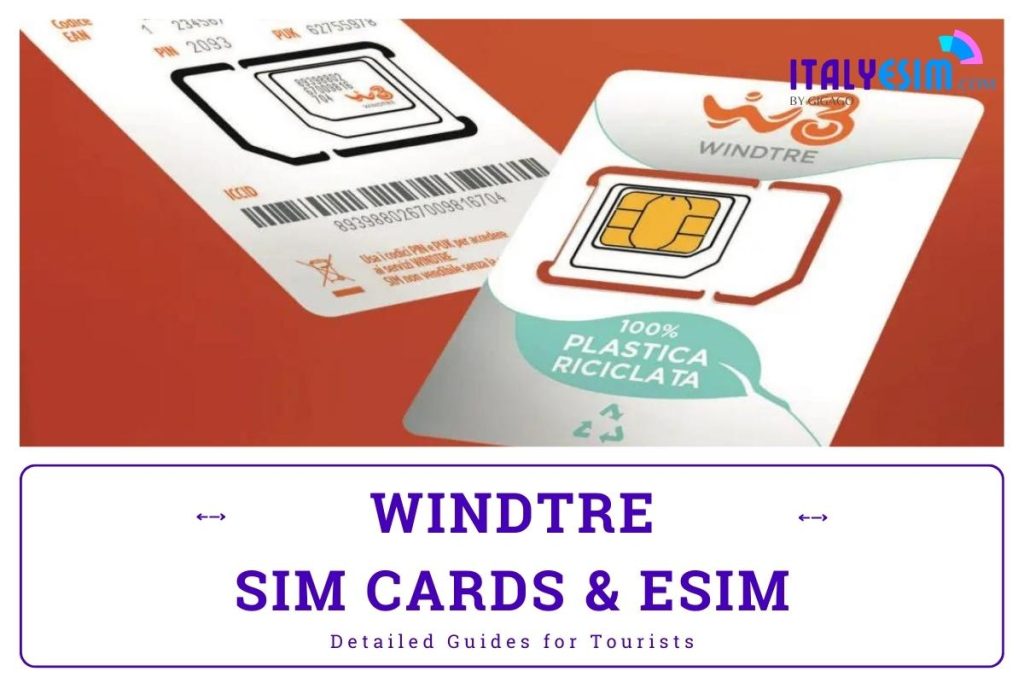 1. Quick facts about WindTre
WindTre is the result of a 2016 merger between Wind and 3 Italia, combining two major Italian networks.
It has over 31 million mobile customers, making it the second largest operator in Italy after TIM.
WindTre uses 4G LTE and legacy 3G networks, providing good coverage nationwide.
Average 4G download speeds are around 45Mbps, with peak speeds reaching 300Mbps in some areas.
In addition to prepaid and postpaid mobile plans, WindTre offers home broadband services.
Tourists can purchase WindTre SIM cards and eSIM profiles online or in-store when visiting Italy.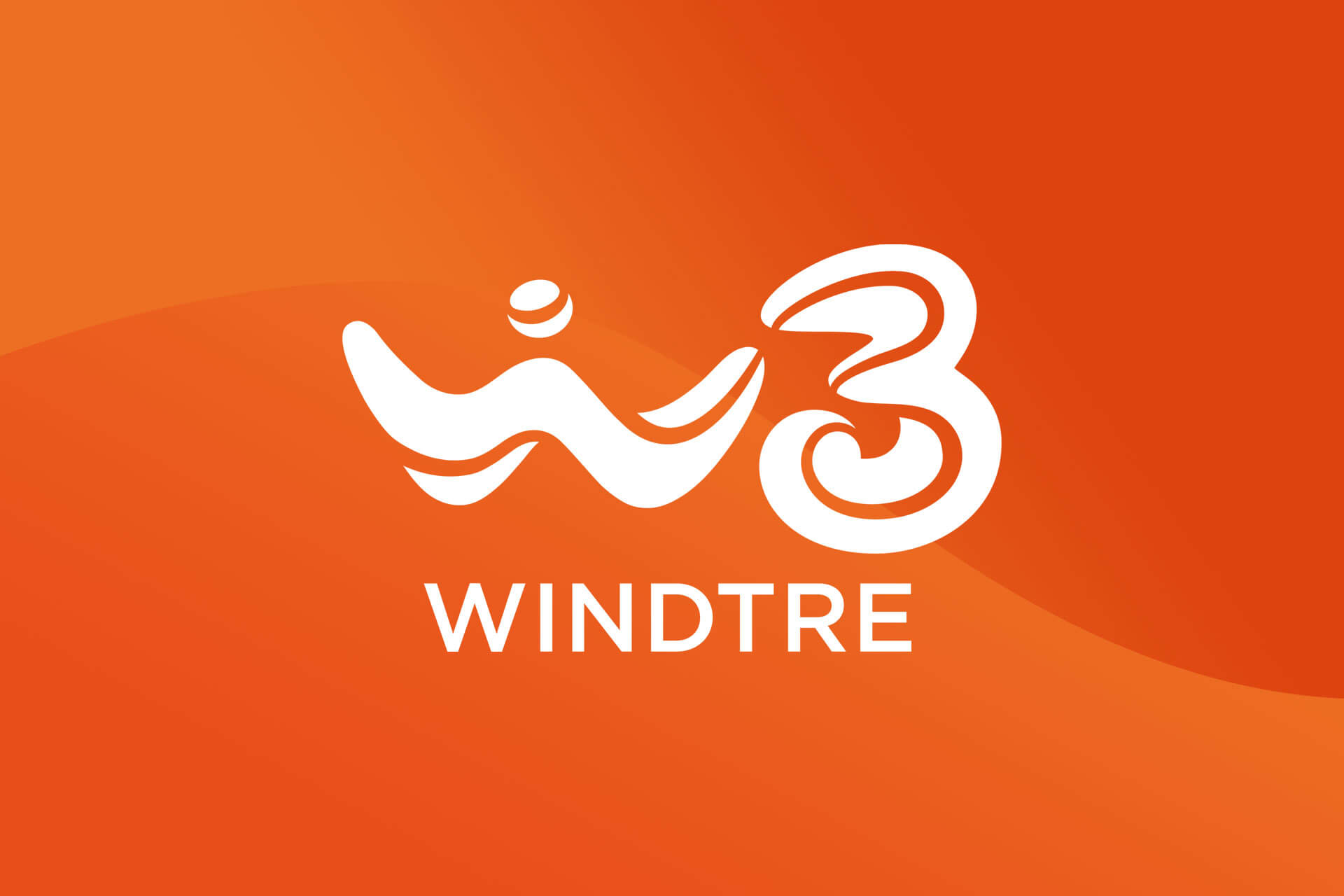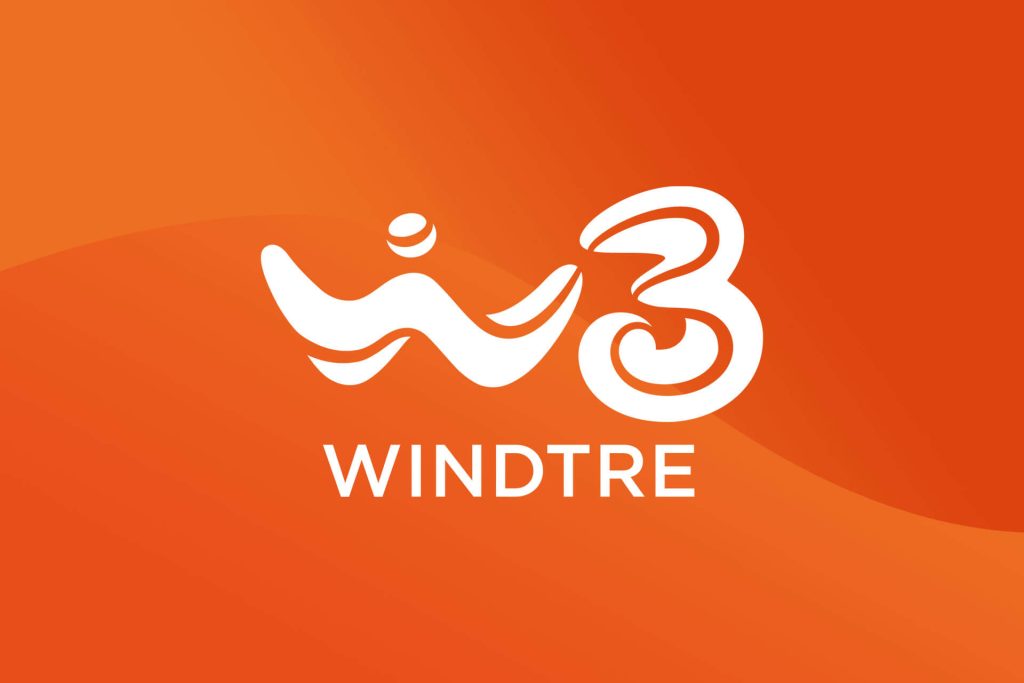 2. WindTre Coverage & Speed in Italy
From the Alps to the Mediterranean coastline, explore how WindTre's mobile networks span Italy's diverse geographic regions and support the daily communications needs of its population.
2.1. WindTre coverage in Italy
According to Opensignal's May 2023 report on Italy's mobile network experience.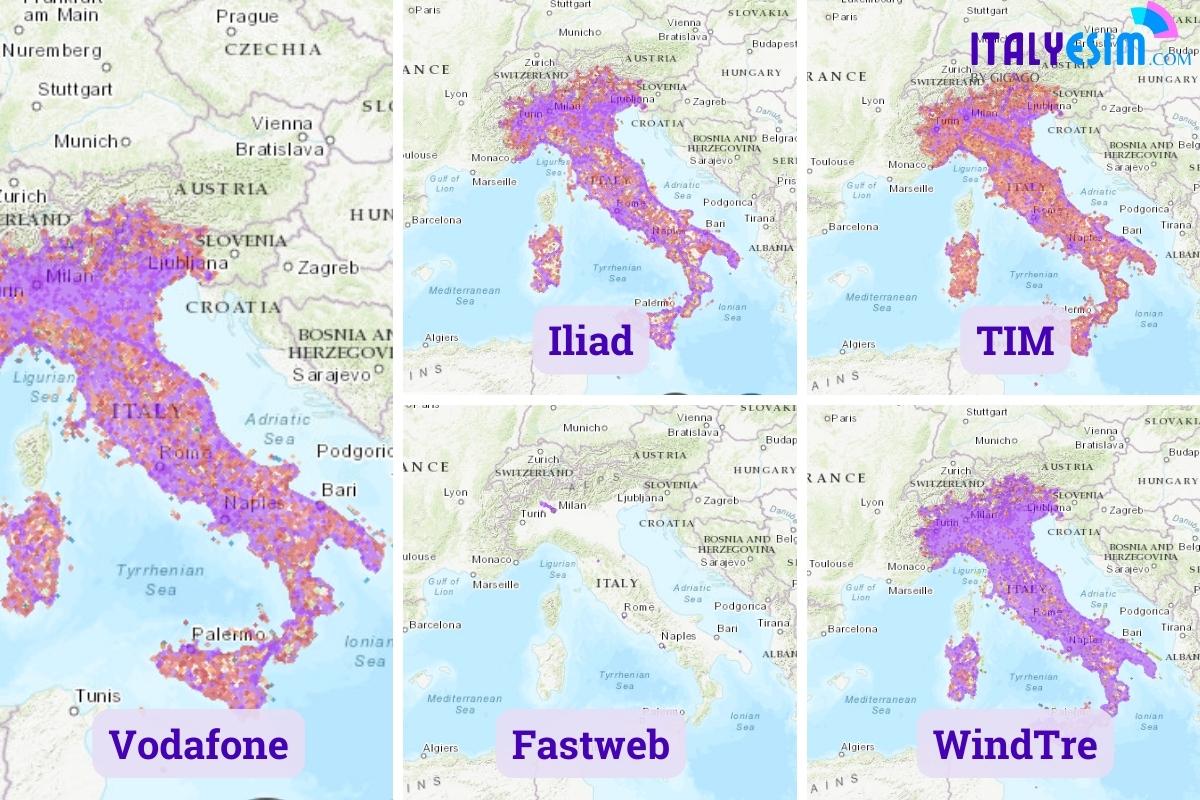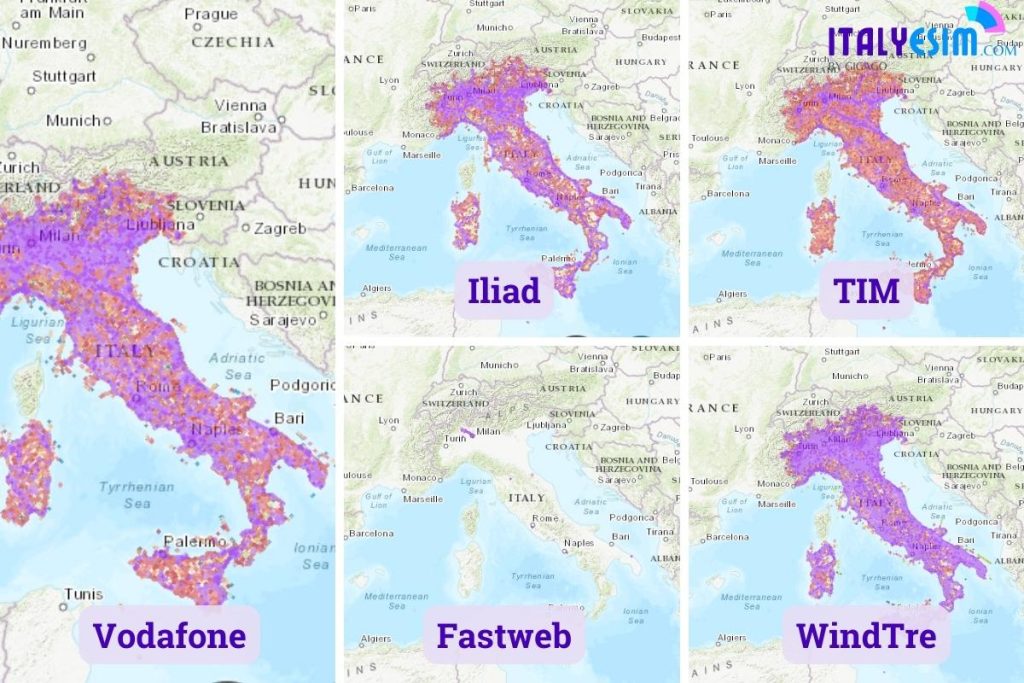 WindTre has the second-worst 4G coverage of the five national operators, with a score of 8.7 on a 10-point scale. This means that WindTre users are more likely to experience dropped calls or slow data speeds in areas with weak 4G coverage.
WindTre's 5G coverage is better, with a score of 7.2. This means that WindTre users are more likely to be able to connect to 5G networks in major urban areas.
Overall, WindTre's coverage is not as good as some of the other national operators, but it has improved significantly in recent years. The company is also investing heavily in expanding its 5G network, so coverage is likely to improve further in the coming years.
2.2. WindTre speed
According to Opensignal's May 2023 report on Italy's mobile network experience, WindTre users saw average overall download speeds of 32.4Mbps and average overall upload speeds of 10.8Mbps. This places WindTre second in terms of average download speed and upload speed, behind Vodafone but ahead of TIM, Iliad, and Fastweb.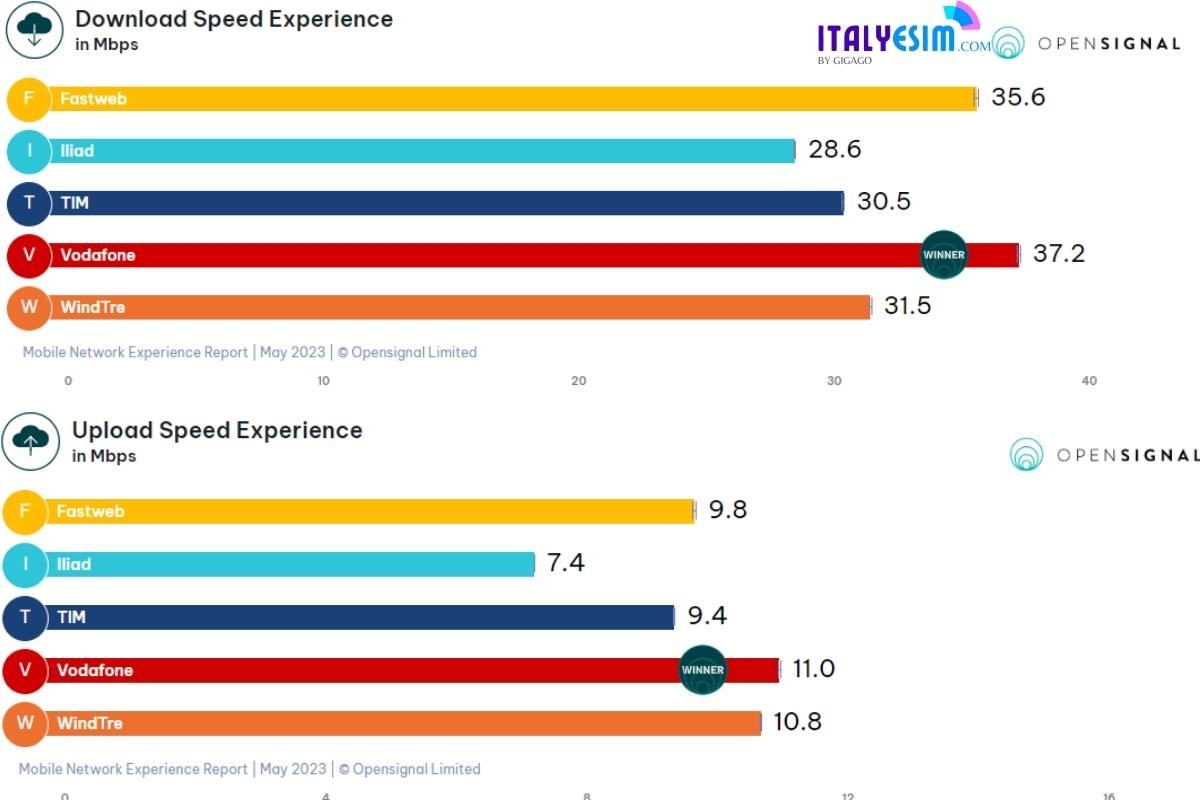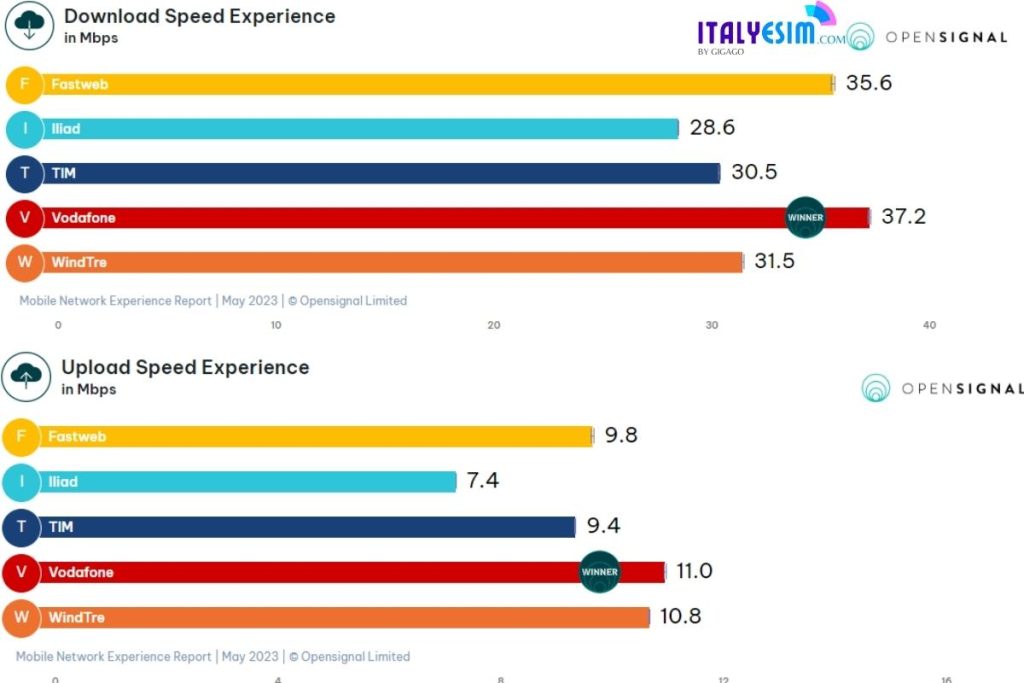 WindTre's performance in terms of speed varies depending on the region. In the Nord Est and Nord Ovest regions, WindTre has the fastest average download speeds, while in the Centro and Sud regions, Vodafone has the fastest average download speeds.
Overall, WindTre's speed is good, but it is not the fastest in Italy. However, WindTre is investing heavily in improving its network, so speed is likely to improve in the coming years.
3. WindTre connectivity options for travelers to Italy
| | | |
| --- | --- | --- |
| Connectivity Option | Pros | Cons |
| Prepaid SIM card | Affordable, flexible data plans | Can be difficult to purchase, may require activation |
| Pocket Wi-Fi | Convenient, easy to use | Can be expensive, battery life may be limited |
| Roaming | Convenient, no need to purchase a new SIM card | Can be expensive, data speeds may be slower than local networks |
| eSIM | Low-cost, digital SIM card, no need to purchase a physical SIM card | Not all phones support eSIMs, may require activation |
Overall, the eSIM is a convenient option for travelers to Italy, especially those who have a phone that supports it. However, it is important to note that not all mobile providers offer eSIMs, and eSIMs may require activation.
4. Best WindTre SIM cards for tourists & cost
WindTre Tourist Pass is a prepaid SIM card designed specifically for tourists visiting Italy. WindTre Tourist Pass is a great option for travelers who need to stay connected while in Italy. It offers a good amount of data and minutes for a reasonable price. Additionally, the SIM card is self-deactivating, so you don't have to worry about overspending.
| | | | | | |
| --- | --- | --- | --- | --- | --- |
| Plan Name | Data | Local Calls | SMS | Price | Validity |
| WindTre Tourist Pass | 20GB | 100 minutes | 100 SMS | ~ 15 USD | 30 days |
5. Does WindTre Italy support eSIM?
Yes, WindTre offers prepaid eSIM profiles but only for business customers and costs around 10 USD.
If you want to use eSIM on your trip to Italy, you can purchase one from italy-esim.com. Purchase an eSIM plan before your trip and you'll receive instant activation – just scan the QR code on arrival. Say goodbye to roaming fees and high costs. Make italy-esim.com your one-stop shop for affordable and seamless connectivity while traveling in Italy.
6. Where can you buy WindTre SIM card and eSIM?
With digital connectivity becoming increasingly important, it is useful to understand the various options for obtaining a WindTre SIM card or eSIM to stay connected via cellular networks throughout Italy and abroad.
6.1 Where to buy WindTre SIM for Italy:
ou can buy a WindTre SIM for Italy at a number of different places, including:
WindTre stores: These are the best places to buy a WindTre SIM, as you will have the widest range of options available to you and you can get help from staff if you need it. WindTre stores are located all over Italy, so you should be able to find one near you.
Supermarkets: Many supermarkets in Italy sell WindTre SIM cards. This is a convenient option if you are already shopping for groceries or other supplies.
Electronics stores: Electronics stores such as MediaWorld and Euronics also sell WindTre SIM cards. This is a good option if you are looking to buy a new smartphone at the same time.
Tobacco shops: Tobacco shops in Italy are known as "tabacchi". Many tabacchi sell WindTre SIM cards. This is a convenient option if you are near a tabacchi when you need a SIM card.
Online: You can also buy WindTre SIM cards online from the WindTre website. This is a convenient option if you want to order a SIM card before you arrive in Italy.
When you buy a WindTre SIM card, you will need to provide your passport or other identification. You will also need to choose a mobile plan. WindTre offers a variety of plans to choose from, so you should be able to find one that meets your needs and budget.
6.2 Where to buy WindTre Italy eSIM:
To purchase an Windtre eSIM, you must go to a WINDTRE store. The retailer will give you a physical voucher with a QR code that will allow you to download the eSIM profile to your device.
7. How to activate WindTre Italy SIM/eSIM
Now that you have purchased your WindTre SIM card or eSIM, the next important step is learning how to properly activate it so you can start enjoying mobile service and data on WindTre's networks in Italy.
7.1 How to activate WindTre Italy SIM:
To use your WindTre Tourist Pass, simply insert the SIM card into your phone and turn it on. You will then be able to access the internet and make calls using your included data and minutes. You can check your data and minutes balance by sending an SMS to 4155 with the text DATI or MINUTI.
7.2 How to activate WindTre Italy eSIM:
The eSIM will be activated within 24 hours of WINDTRE receiving the data.
If you wish, you can enable/disable the PIN through the smartphone menu, and remember that if the code is entered incorrectly three times in a row, the eSIM will be blocked.
8. WindTre Italy Call & SMS Rates
| | |
| --- | --- |
| Call Type | Cost |
| National calls (landline and mobile) | $0.25/minute |
| National SMS | $0.11/SMS |
| EU calls (landline and mobile) | $0.25/minute |
| EU SMS | $0.08/SMS |
| International calls | Varies depending on the country |
| International SMS | Varies depending on the country |
Please note that the exchange rate may fluctuate, so the actual cost of your calls and SMS may vary slightly.
For prepaid packs, minutes and texts often included. Rates otherwise reasonable for a EU network. Roaming free within the EU.
9. Useful USSD codes for WindTre Italy SIM/eSIM
How to check your WindTre balance?
Text BALANCE to 4155.
Call 4242 from your WindTre number and follow the prompts.
Check on the WindTre app.
Standard codes work on both SIMs and eSIMs. Useful for monitoring usage.
10. How to top-up WindTre Italy SIM/eSIM
Several ways to add more data or extend validity on WindTre:
Online – Recharge using WindTre website or app
Vouchers – Enter top-up code from voucher purchased
Stores – Top up at WindTre stores and other retailers
ATM – Add funds via cash or card at ATM
MyWind app – Top up through integrated app wallet
Just activate additional data pack or validity extension as needed. Equally easy for SIM and eSIM.
11. Alternatives to WindTre Italy
Some other good Italy SIM card options:
TIM – Largest network with best coverage
Vodafone – Fast speeds and reliable connectivity
iliad – Budget prepaid plans, low rates
italy-esim.com – Great value tourist eSIM plans.
Do some research to compare Italian carriers when planning your trip. But WindTre makes a solid choice overall.
12. FAQs about WindTre Italy
Does WindTre offer 5G service?
WindTre has started initial 5G rollouts in Italy but coverage remains minimal. 4G LTE provides faster speeds for now.
How long does activation take?
WindTre SIMs and eSIMs activate within minutes once installed and connected.
Can I roam in Europe?
Yes, WindTre has EU roaming so you can use it freely when traveling around Europe.
Is there an expiry date?
Tourist SIMs expire after 7 or 30 days depending on pack. All Digital SIMs expire after 90 days unless topped up.
13. Final Words
WindTre makes an excellent connectivity option when visiting Italy, with its solid coverage, good speeds, variety of prepaid SIMs and eSIM plans, and widespread availability. Both regular SIM cards and eSIMs provide affordable options, while coverage across Italy ensures reliable service while traveling even to remote areas. Follow the instructions above to get set up with the best WindTre Italy SIM or eSIM for your trip!